Molecular Assemblies, pioneer of its Fully Enzymatic SynthesisTM (FESTM) technology to provide researchers long, pure, and accurate DNA oligonucleotides, is focused on removing today's limitations for life science and biotechnology research.
San Diego, Calif., November 8, 2023 – Molecular Assemblies, Inc., a pioneer in the field of enzymatic DNA synthesis, today announced it has been awarded BioServices Innovation of the Year in the third annual BioTech Breakthrough Awards program, which conducts the industry's most comprehensive analysis and evaluation of the top companies, solutions and products in the life sciences and biotechnology industry. This year's program attracted more than 1,500 nominations from over 12 different countries throughout the world.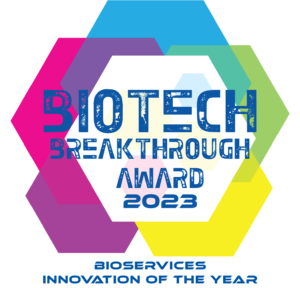 Molecular Assemblies has developed the first Fully Enzymatic Synthesis (FES) technology to accelerate the production of long, pure, and accurate DNA to power the next generation of synthetic DNA products. The company is providing its breakthrough oligonucleotides for use in applications including CRISPR gene editing and other tools used in research discovery, therapeutic development, and protein engineering.
"Molecular Assemblies was founded with a vision to deliver long, pure oligonucleotides that power new breakthroughs in biomedical research and beyond," said Larry Stambaugh, Board Chair of Molecular Assemblies. "With our first placements of enzymatically synthesized oligos in customer's hands, this award from BioTech Breakthrough drives home that our vision is now a reality."
"We are excited to receive this BioTech Breakthrough Award, which recognizes the companies that have set themselves apart from their competitors," said Phil Paik, Ph.D., Chief Technology Officer of Molecular Assemblies. "Our fully enzymatic DNA synthesis technology will significantly elevate research capabilities through faster turnarounds, longer oligo lengths, and the ability to produce complex sequences with ideal purity. The great customer feedback we are receiving confirms the importance of our technology to accelerate innovation."
Molecular Assemblies' FES technology currently supports gene editing including CRISPR technologies, as well as molecular biology techniques including cloning and mutagenesis, NGS enrichment and controls, and gene assembly. Learn more about getting access to the FES technology by visiting: http://www.molecularassemblies.com/now-available
"Congratulations to Molecular Assemblies for being the 'BioServices Innovation of the Year' winner. Synthetic DNA is the life force driving discoveries in clinical medicine and pharmaceuticals, and greatly needed because the chemical DNA synthesis process is both unwieldy and impure," said Bryan Vaughn, Managing Director of BioTech Breakthrough Awards. "Whether developing antibodies, building complex mRNA templates, or engineering bacteria, researchers are no longer restricted to what can be synthesized thanks to Molecular Assemblies FES technology that delivers exactly what the science requires."
Molecular Assemblies' FESTM Technology
Molecular Assemblies' Fully Enzymatic SynthesisTM (FESTM) is the foundation of their approach to create long, high quality, sequence specific DNA composed of more than 300 base pairs. The FESTM technique mimics the way DNA is naturally produced and decreases the need for lengthy and expensive post-synthesis purification. Synthetic synthesis of DNA chains is the premise of experiments in the biotechnology and health science sectors. This patented platform is powering the exciting next generation of DNA-based products. Molecular Assemblies is now offering access to long, custom oligonucleotides synthesized with the Company's FES technology enabling customers to accelerate their research in CRISPR gene editing, protein engineering, and NGS probes and controls. 
About Molecular Assemblies
Molecular Assemblies, Inc. is a private life sciences company advancing their proprietary enzymatic DNA synthesis technology that is designed to significantly elevate the future generation of DNA-based products. The company's patented Fully Enzymatic Synthesis™ (or FES™), based on making DNA the way nature makes DNA, produces long, high quality, sequence-specific DNA reliably, affordably, and sustainably, including sequences not available today. FES technology will enable the reading and writing of DNA for many industries, including industrial synthetic biology and precision medicine, as well as emerging applications of DNA for data information storage, nanomachines, and bio-based electronics. Molecular Assemblies is headquartered in San Diego. For more information, visit molecularassemblies.com.
Contacts
Company: Ben Johnson, Senior Director of Sales and Marketing, info@molecularassemblies.com
Media: Jessica Yingling, Ph.D., Little Dog Communications Inc., jessica@litldog.com,  +1.858.344.8091